The Koufonisia are ideal for those who own recreational craft. Be it a speedboat or a sailing vessel it will enable you to get to know and enjoy the Koufonisia and the surrounding uninhabited islets.
Sailors are welcome on Koufonisia
The Koufonisia inhabitants were seamen, are fishermen, know the sea and are very happy to help any sailor they encounter.


Pano Koufonisi boasts a marina. It can supply water, oil, petrol, electricity while food and drink can be bought in the village.
There is a lot to do around Koufonisi if you have a boat. There are numerous beaches to which land access is not very easy, so they are ideal for boaters. There are also various uninhabited islets. Either way they are perfect for those seeking freedom and tranquility and a chance to be alone in an unspoilt setting under the sun and with only the seagulls for company.
Below we are presenting the various options available to boaters along with details to enable you to choose the most suitable one for you.
On Pano Koufonisi there are beautiful beaches which, however, teem with visitors, therefore you will not enjoy an explorer's experience and the boat will also probably disturb the bathers' peace.
Still there are places worth visiting.


North of Pori Cove is Xylobatis Cove with its two sea caves. You can easily swim into the caves, one has a double entrance, the other just one and a small beach inside.
Kato Koufonisi is a small uninhabited island.
In the summer months it is filled with visitors especially at Lakki, Detis, Nero and Pezoulia beaches.
However, sailing around the island gives you a chance both to admire its beauty and discover other small, beautiful beaches which are difficult to get to on foot.


Between Pano and Kato Koufonisi and Keros is the uninhabited islet of Glaronisi, surrounded by aquamarine waters and with several small pretty beaches.


North of Pano Koufonisi in the direction of Donoussa Island there are four more uninhabited islets, Prasoura or Kopria at a distance of 4.3nm from Koufonisi, Strogyli at 8nm and half a mile further.

On the two islets called Makares, surrounded by crystal clear, aquamarine waters and with beautiful beaches.

Another option for a sailing trip is around Keros.
Its history reflects the dynamic aura of the island. In the Bronze Age it was a religious centre, perhaps the only one in the world back them.
You will discover that it has preserved its striking, wild beauty and one of the many coves and small beaches will provide an ideal setting for a peaceful swim in its clear aquamarine waters.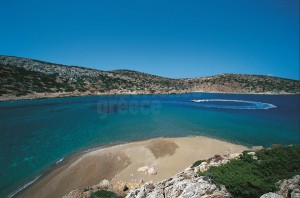 South of Keros on the side not visible from Koufonisi, there are eight uninhabited islets, Megali Plaka, Plaki, Loubardiari, Ano Antikeri, Kato Antikeri, Agios Andreas, Lazaros and Tsouloufi. They all boast a magnificent seabed, aquamarine waters and lots of small coves ideal for dives from the boat.
West of Keros at a distance of 100 metres is Daskalio and east of Keros at 90m is Voulgari.
All these islands are around Koufonisia.
Don't forget to bring a fishing rod or any other fishing gear
as there are plenty of fish in the waters and it's a delightful pastime.
We wish all sailors
a smooth and enjoyable sail.